The Chorale
From our simple beginnings in Babylon as a community chorus under the baton of founding director H. Dudley Mairs, the Babylon Chorale has grown into one of Long Island's premier choral groups, with members from both Nassau and Suffolk counties.
Chorale members attend weekly rehearsals from September through June in order to present an annual concert series of three distinctly different performances.
The dedication and hard work of our members are the heart and soul of the Chorale. Many individuals have participated for years, not only as singers, but also as board officers, trustees, or volunteers for the numerous activities that must be completed each concert season.
Aware of the many tasks over and above singing that our organization needs done, the Board members dedicate themselves both to the musical and business ends of our group – from music selection and purchase, to auditions, membership, publicity, ticket sales, contracts, grant writing, and even the design and administration of this website.
Executive Board members meet monthly all year round to fulfill their specific jobs. They make certain the Constitution and Bylaws of the Chorale are kept current and are carried out or changed as needed. The Executive Board and Trustees try to ensure all members – including themselves – are afforded the opportunity to enjoy, and to be an active part of, the family called The Babylon Chorale.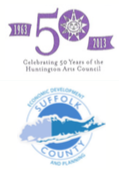 This program is made possible in part:
With funds from the Decentralization Program, a regrant program of the New York State Council on the Arts with the support of Governor Andrew Cuomo and the New York State Legislature and is administered by The Huntington Arts Council, Inc.
With public funding provided by Suffolk County