2018-2019 Season Brochure
The Babylon Chorale 2018 – 2019 Concert Season has been announced! ELEMENTS
Click here to download the 2018-2019 Brochure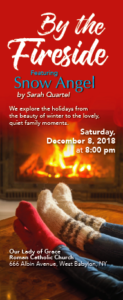 By the Fireside
Saturday, December 8, 2018 at 8:00 pm
Our Lady of Grace Roman Catholic Church, West Babylon

Enjoy the free reception after the concert.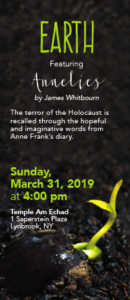 Earth
Sunday, March 31, 2019 at 4:00 pm
Temple Am Echad, Lynbrook, NY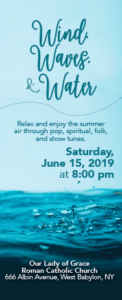 Wind, Waves, & Water
Saturday, June 15, 2019 at 8:00 pm
Our Lady of Grace Roman Catholic Church, West Babylon
FRIENDS OF THE BABYLON CHORALE
Benefactor: $250+
Patron: $175 to $249
Sponsor: $100 to $174
Associate: $50 to $99
Contributor: up to $49
Supporters can choose to make a one-time donation, or a recurring monthly contribution.  Please click on the "Donate" button to support our organization, its mission, and our future.
We also accept  donation checks, made payable to The Babylon Chorale, Inc., and mailed to:
The Babylon Chorale
P.O. Box 492
Babylon, NY 11702-0492